S. Korea's venture capital investment hits record high of near $3 bn H…
21-11-02
본문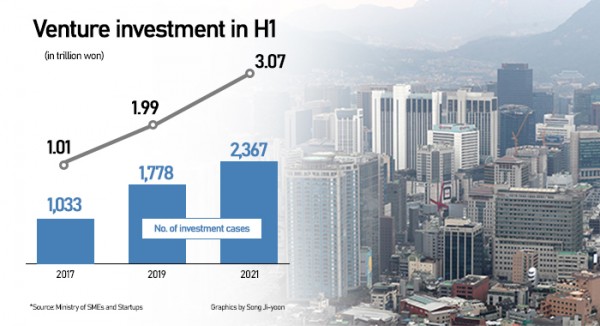 South Korea's venture capital investment hit an all-time high of more than 3 trillion won ($2.6 billion) in the first six months of this year amid state-backed revitalized investment ventures mostly in IT and bio sector.

According to data from the Ministry of SMEs and Startups released on Wednesday, venture capital investment value reached 3.07 trillion won in the first half ended June, expanding a whopping 85.6 percent from the same period of last year.

Startups in the ICT, logistics, bio and medical sectors attracted most funds. The logistics sector showed the biggest rise amid e-commerce boom, jumping 383 billion won from the previous year.

The bio and medical sector also drew 375.5 billion won, taking up the largest share of the total investment.

A total of 61 companies attracted more than 10 billion won each in investment in the first half.

Four companies landing more than 30 billion won in investment were online shopping platform operator Ably, AI chip startup Furiosa AI, and Viva Republica, the operator of Korea's popular money transfer app Toss.

Four companies were identified as unicorn, or an unlisted startup with a valuation of more than US$1 billion.

Follow-up investment in the first half doubled on year to reach 2.22 trillion won thanks to eased regulations. This also suggests that a sustainable venture investment cycle has been created in the country.

A total of 137 venture funds attracted 2.74 trillion won in the January-June period, surging more than 130 percent on year. The figure marked a new record high in both number and volume.

Private investors poured 1.97 trillion won into venture funds, 156 percent higher than a year ago, while public sector injected 766.3 billion won, up 83.8 percent on year.
LIST