S. Korea's monthly exports hit historic high in July on gains across t…
21-11-02
본문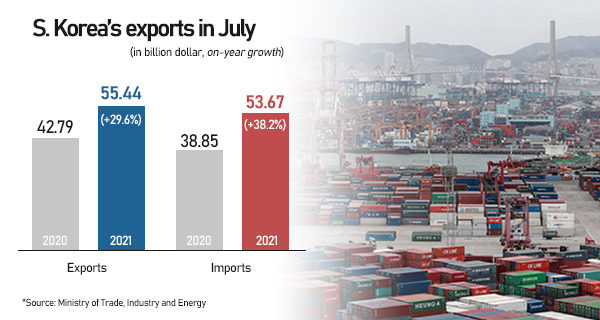 South Korea's monthly exports recorded a historic high of $55.4 billion in July thanks to the strong demand for the country's all 15 mainstay products such as chips, machinery, and petrochemicals amid the ongoing global economic recovery from the Covid-19 pandemic.

But trade surplus more than halved from June to $1.76 billion due to rising raw materials prices, spurring concerns over Korean Inc.'s deteriorating profitability.

According to data released by the Ministry of Trade, Industry and Energy on Sunday, Korea's outbound shipments surged 29.6 percent on year to $55.4 billion in July, the highest monthly figure since the ministry began compiling related data in 1956. Previous all-time high figures were $55.1 billion in September 2017 and $54.86 billion in October 2018.

Brisk exports in the seasonally slow month of July due to summer holiday has led Korea's monthly outbound shipments gain for the nineth month in a row from November last year and grow more than 20 percent for four straight months for the first time in 10 years.

Korea also topped $50 billion in exports for a fifth month in July from March, leading to record January-July exports of $358.7 billion, up 26.6 percent from the same period a year ago. It is also the biggest jump in 11 years.

If the current trend continues, Korea`s exports for whole 2021 may be able to reach $600 billion.

The government forecast that the country's exports will remain robust in the second half of this year, citing the rosy outlook for the global trade recovery and a rise in unit prices of the country's mainstay products such as chip, display, steel and petrochemical products.

Exports of all 15 items gained in July for a second straight month, of which 13 reported double-digit growth. Outbound shipments of mainstay semiconductors surged 39.6 percent on year to $11 billion, the highest for the month of July. Shipments of petrochemicals and general machinery at jumped 59.5 percent and 18.4 percent and those of vehicles 12.3 percent and computers 26.4 percent.

New growth items also saw a jump in exports – bio health 27.2 percent, secondary battery 31.3 percent, and cosmetics 11.7 percent.

Shipments to nine major regions increased for a fourth month in a row, of which those to the United States, European Union, and ASEAN were the highest for July and China second highest. Exports to China jumped 15.7 percent to $13.57 billion in July and to the U.S. 32.1 percent to $8.72 billion.

Trade balance, meanwhile, which equals the value of exports minus imports, reached a surplus of $1.76 billion in July versus $4.45 billion in June. The decline was due to higher raw materials prices such as international oil prices, raising concerns that Korean exporters` profitability may deteriorate.

Trade Minister Moon Sung-wook said that risk elements still remain such as rising raw materials prices, component supply setback, difficulty in exports and imports logistics, and surging variant virus cases.

He said the ministry will provide all support to export companies so that Korea is able to reach record annual exports this year and recover $1 trillion trade.
LIST